With Wall being a destination for outdoor sports like hiking, biking and hunting, as well as its centralized location near the Badlands National Park and the Black Hills National Forest, the town is an ideal hub for nature lovers. Several campgrounds accommodating both tents and recreational vehicles of all sizes dot the immediate area around Wall and accommodate thousands of visitors each year. There are also many services available in our town so you can gear up and head out on your adventure.
Just a reminder to visiting outdoor enthusiasts – many trails do not provide a water source, so pack in plenty of water to carry with you. Also, South Dakota weather is notorious for its sudden changes, so dressing in layers and bringing a waterproof jacket and shoes is recommended.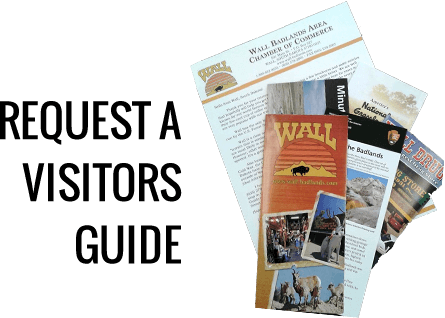 Hiking
There are multiple day hike opportunities close to Wall. The Badlands National Park is located just minutes south of town, and offers hikers trails of various difficulty levels. One thing all hikers in the Badlands can be assured of is this - the scenic views of the national park, which includes 244,000 acres of protected area, will provide a breathtaking backdrop to their day of outdoor fun.
Hikers new to the park are encouraged to consult with rangers at the Ben Reifel Visitor Center to learn current status of trails and find the ideal trail to fit your abilities and desires. For hikers looking for something more adventurous than a day hike, backcountry camping is available in the national park as well.
Biking
Biking is another way to see the Badlands National Park. Biking is not allowed on the hiking trails in the park, but there are several options and routes for bicycling enthusiasts. Visitors planning to utilize biking trails in the park should research the area, as well as consult with park rangers, as routes may vary from paved to gravel.
Wall Community Park and Pool
Wall's city park is a one-stop destination for a variety of outdoor fun. The park features an exercise/bike path, a playground, picnic shelters, and tennis and volleyball courts. Get up close and personal with the famous 80-foot Wall Drug dinosaur on the park's bike path. The pool located within the park is open daily June through August. The park is the perfect spot for an afternoon picnic while you enjoy the sunshine.
Skyview Movie Nights
Breathe in the fresh outdoor air and cuddle under a blanket at Wall Field of Films, Located at 510 Norris St. No admission fees. You can watch the movie outdoors or from your car with audio though an FM radio station. Concession stands are available.
Night Sky Observing
Fantastic views of the night sky are available at Badlands National Park as part of their Night Sky Program throughout the summer months. On Friday through Monday nights, a ranger is available at the Cedar Pass Campground Amphitheater to point out the different constellations and planets. In July, the Badlands Astronomy Festival is held and offers family-friendly activities, presentations given by guest speakers, and telescope viewing for amateur astronomers, or anyone who enjoys a stunning star-studded sky.

Badlands Observatory is now offering night tours to the public. The program will vary with the phase of the moon and current sky conditions. Make your reservation NOW they fill up fast.
Wildlife Viewing
The Wall area offers plenty of chances to view wildlife that are native to the area, with the nearby Badlands National Park and the Buffalo Gap National Grasslands containing a variety of critters to observe. Prairie dogs are a South Dakota staple and can be readily seen in several areas, in and around the Badlands.
Other wildlife commonly seen in the area include: birds, mule deer, pronghorn, bison, coyotes, and bighorn sheep. The endangered black-footed ferret was reintroduced to the Badlands National Park and have found residence in some Badlands' prairie dog towns.
Hunting
Wall attracts people from near and far because of its close proximity to excellent hunting throughout the year. Many hunting guides are available in the area to take visitors to key hunting destinations and help them obtain the game they're after. Autumn near Wall is great for big game prairie hunting, and spring and fall are both abuzz with turkey hunters. Pheasants, prairie dogs and coyotes are also abundant in the area and provide for great hunting opportunities.
Shooting Ranges
Two shooting ranges and one archery range are located in Wall, and are all free to utilize. The Wall Archery Range is south of the Wall Golf Course and was established in 2017. The archery range offers targets in varying distances, from 10-70 yards, to accommodate novices and experts, as well as a 3-D archery range for a realistic hunting experience.
Wall's trap shooting range is also located near the golf course, and allows guests to shoot clay pigeons and other small targets. Situated just east of Wall is a shooting range where you can fire rifles and other larger guns at big targets.
Wall Golf Course
The Wall Golf Course is a public 9-hole, par 36 course located southwest of Wall on Golf Course Road. The golf course is one of many recreational opportunities available in the city of Wall. For more information about the course, open hours, and tee times, call (605) 279-4653.