The city of Wall offers a little something for everyone – whether you're a family seeking an entertaining break from your travels or a thrill-seeker planning a multiple day exploration through the area.
Showcasing an 80-foot green dinosaur right off I-90, the world famous Wall Drug helps to bring in the two million people that visit the town each year. In addition to the free water that the drug store has advertised since its conception, Wall Drug also features shops selling locally-made souvenirs and premier western wear. Those with children should plan on stopping by Wall Drug's Backyard, where kids can splash through the water jets and take pictures with a roaring T-Rex. For a unique dining experience, head over to the Western Art Gallery Restaurant in Wall Drug, which serves juicy buffalo burgers and delicious handmade donuts amid the largest private Western art collection in the world.
A stroll down Wall's Main Street provides a convenient way to take in some of the town's best shopping and dining. Boutiques featuring Black Hills Gold jewelry, Badlands souvenirs and hand-made gifts are located all along the stretch of road, as well as shops offering locally-made fudge and wines. A variety of dining choices also dot the street, and visitors can choose among classics like thick steaks and hot, fresh pizza while sipping on an ice-cold beer after a busy day of sight-seeing.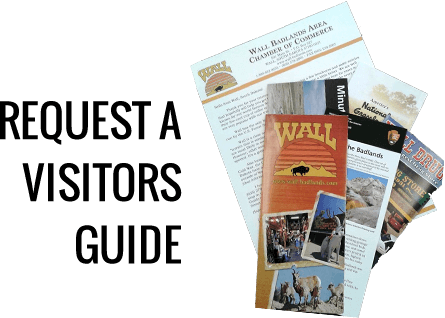 Although Wall Drug does its part in drawing in visitors to the rural community, it is only one of many opportunities for adventure in the area.
Wall isn't far from a mix of outdoor fun, with Badlands National Park located only 7 miles south of town. The national park offers a scenic loop that lends for a breath-taking drive, as well as hiking, camping, and other exploration opportunities. Wall is also home to a community park where guests can enjoy many recreational activities. Adding to the wide range of outdoor activities, a 9-hole golf course is also located within Wall and is open to the public.
Those wanting to learn more about the area's rich heritage shouldn't miss a visit to the historic properties near Wall that have been included on the National Register of Historic places. Prairie Homestead features a hillside sod house that is still intact. The Triangle Ranch B&B, a working ranch that provides lodging in a 1923 "Alhambra" Sears, Roebuck & Co Honorbilt home and carriage house, is also a must for a tour through the region's rustic beginnings.
Make sure to view the events calendar to see local events, including the "Wall Celebration" in July with activities that include a parade, rodeo, dances, and many other forms of entertainment.