Your Guide to Fall Fun in the Wall-Badlands Region
– By #Wall-Badlands Area Chamber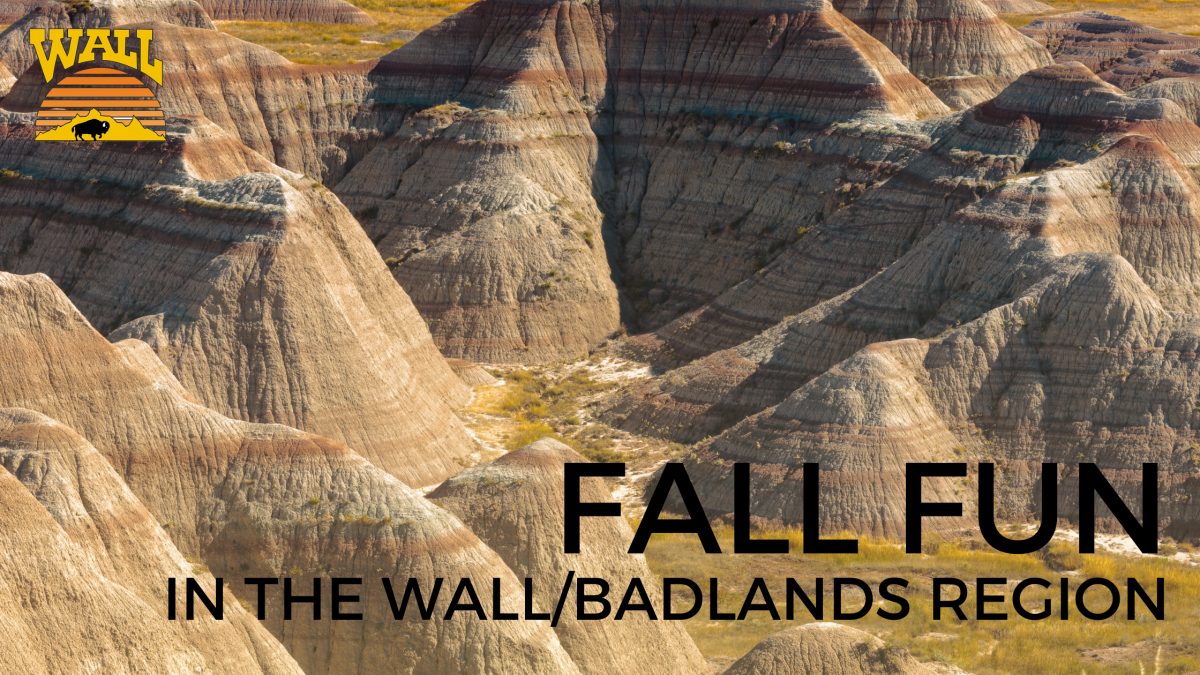 The leaves will begin changing before we know it, and with it the range of seasonal activities to enjoy in the Wall-Badlands region. To help prepare you for your late-summer/fall getaway in the area, we're here to share our guide to the best sites and events to see this fall!

Beat the Crowds at Top Local Attractions:
Wall, South Dakota offers a diverse range of fun attractions and activities. Whether you're looking to spend the afternoon at Wall Drug Store or meander the variety of local businesses situated along Main Street, late-summer/fall is the ideal time to beat the crowds of travelers, making for the utmost relaxed experience in our humble town.

Enjoy Cool, Calm, and Collected Weather:
South Dakota is well-known for our unpredictable weather. However, fall is typically quite mild and enjoyable for most, with average daily temperatures ranging anywhere from 76 to 52 degrees in September, and 60 to 40 degrees in October, on average. When in doubt, make sure to pack sweatshirts, pants, and blankets for your fall journey to the area, just in case it's particularly chilly.

Get Off The Beaten Path:
Badlands National Park is home to a treasure trove of trails dotting the most defining features and landscapes of the region. As the weather starts to cool down, there's nothing better than spending your morning or afternoon taking a brisk hike throughout the park. While temperatures can get quite chilly in the early morning, you're almost guaranteed to find ideal hiking conditions well into fall before snow inevitably returns to our reaches. For a full list of trails throughout Badlands National Park, hop on over to the National Park Service's website!

Stargaze to Your Heart's Content:
The Wall-Badlands Area Chamber recently covered the breathtaking stargazing conditions that call our region home, nearly 365 days a year. As the temperatures begin to cool down, there's nothing better than cuddling up in a blanket next to a love one as you peer at picturesque views of the Milky Way and countless constellations that dot the night skies. Learn more about Stargazing in the Wall-Badlands Region.

Experience Living History:
The history of Wall, SD and the surrounding region is as enchanting as the local businesses and attractions that call Wall and surrounding communities home. It goes without saying that no trip to Wall would be complete without a living history lesson. Thanks to nearby attractions like the Prairie Homestead, Minuteman Missile National Historical Site, and the National Grasslands Visitor's Center, you'll find free educational opportunities waiting for you around every corner. Who doesn't love affordable activities?!

Stunning Sights Await You on a Scenic Drive:
Indulge in the beautiful fall surroundings of Badlands National Park and the Cheyenne River by taking a crisp cruise throughout the region! For those looking to take in the best of the Badlands, Badlands Loop State Scenic Byway is an essential choice, while county roads in and around the Cheyenne River near Wasta will bring you up close and personal with immense fall foliage in late September/early October. With hundreds of thousands of acres of sprawling scenery, you can't beat the picturesque views in Wall-Badlands country.

You're Just an Hour Away from Breathtaking Views in the Black Hills:
Wall, South Dakota truly is the gateway to the beautiful Black Hills. For those looking to peer at the leaves changing colors, or enjoy a timely trip to a local pumpkin patch, Wall, SD is located under an hour away from the Black Hills, making for the ideal afternoon jaunt during your trip to Western South Dakota.
Feeling Right at Home is the Name of the Game:
Wall, SD is well known for our pristine Midwestern hospitality that rings through the streets of our growing town. When you're here, you'll feel right at home, no matter where you stay, what businesses you visit, or the people you meet. After a hectic summer, there's no better feeling than choosing a travel destination that is as laid-back and relaxed, yet exciting as the Wall-Badlands region. To learn more about local lodging accommodations, click here!

Great adventures await you in Wall, South Dakota this fall. To learn more about our community, we encourage you to request our Visitor's Guide!
---
Last Modified: