A Guide to Biking in Badlands National Park
– By #Wall-Badlands Area Chamber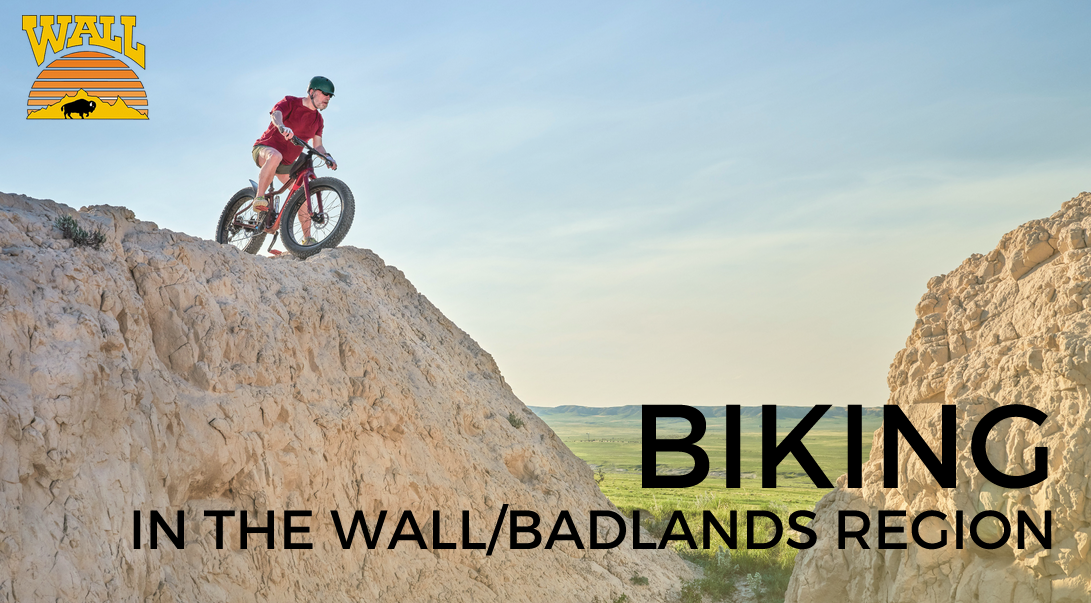 Tighten your tennis shoes, put some air in your tires and get to the Wall, SD and Badlands National Park area to enjoy some of the best biking conditions in the region! Home to 244,000 acres of open land in the Badlands alone, you'll find pristine biking conditions from Mid-Spring through Late-Fall. Whether you're traveling on a family vacay or making the yearly pilgrimage to the ever-popular Wheelin' to Wall event held each September, you'll find no shortage of opportunities to put more miles on your bike, coupled with life-lasting memories.

Choose Your Biking Adventure:
So you've thought about biking in the Wall-Badlands area, now where should you plan to bike? Use our helpful guide below to find the right biking conditions for you!
Badlands Loop: For those who prefer biking on paved surfaces, the Badlands Loop may be the perfect path for you to follow on your next Badlands biking adventure. Enjoy close-up views of the Badlands' best scenic vistas and sights as you roll up and down the winding roads that see hundreds of thousands of tourists roaming the park each year. Disclaimer: the Badlands Loop is indeed a road intended for vehicular travel. As such, we advise you to be well aware of your surroundings, and make sure to watch out for vehicles and free-roaming wildlife as you set out on your bike ride. Moreover, there are definitely some areas where the road can get quite steep, so ensure you have adequate equipment to make the most of your jaunt.
How to get there: Badlands Loop is easily accessible from the Badlands National Park entrance near Wall, SD as well as the entrance near Interior, SD, and Scenic, SD.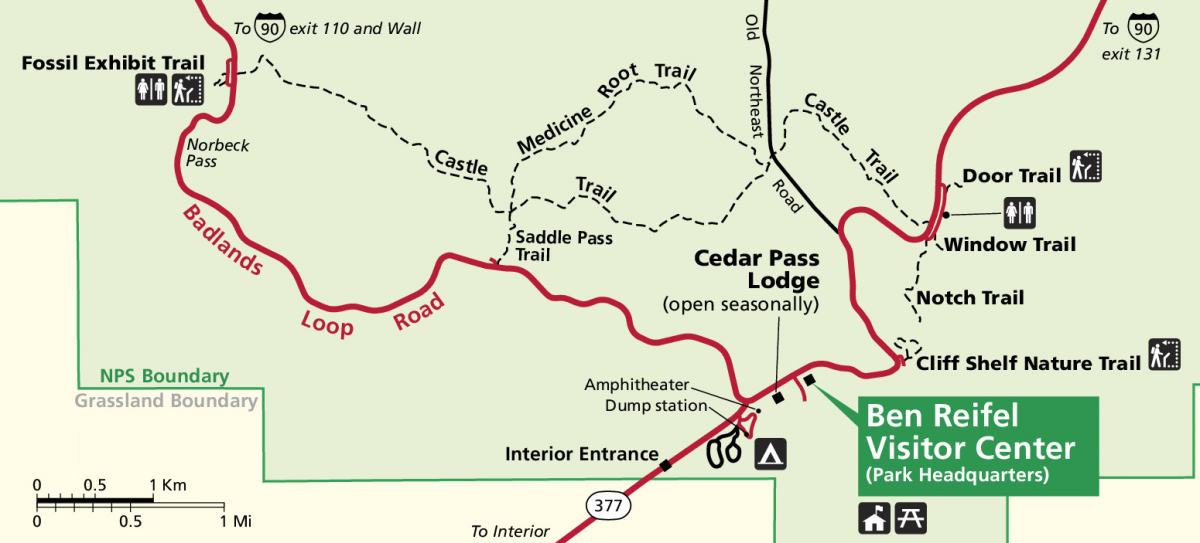 Northeast Loop: For those looking to enjoy a path offering paved and unpaved surfaces, the Northeast Loop route is a fabulous option for those looking to see the Badlands like never before. Starting at the Ben Reifel Visitor's Center, the Northeast Loop will take you through Badlands National Park, along frontage roads near Interstate 90, as well as near the Minuteman Missile National Historic Site offices! A 17 mile loop in total, this trail features 9 miles of paved surfaces, and 8 miles of unpaved surfaces. Similar to the Badlands Loop, the Northeast Loop may be challenging for some given steep roadways throughout the Badlands.
More fun awaits along the Cheyenne River and Buffalo Gap National Grassland: Located outside of Wall, SD, the Cheyenne River and Buffalo Gap National Grassland offer miles of well-preserved county roads and routes that are perfect for biking! Better yet, if you bike in these areas during the Fall, you'll enjoy up-close encounters with sprawling, colorful foliage, cool air, and spectacular sights.
What to Bring
Headed out on your first biking expedition or new to the area? Check out our list of the top essentials to bring with on your next Badlands biking outing:
A Mountain Bike: The Badlands are home to a wide ranging of biking conditions, accommodating riders of all skill levels. However, more than anything, we encourage you to ensure your bike is well-equipped to handle large elevation changes, winding paths, etc.
Water: Whether you're biking in the Spring, Summer, or Fall, we highly encourage you to prioritize packing sufficient water for your biking adventure. No matter the time of the year, the weather conditions in the Badlands can change in an instant. Always make sure to bring along more water than you'll need just in case.
Dressing in Layers: Again, South Dakota weather can change in an instant. From sunshine to snow, hailstorms, and everything in between, dressing in layers will give you the adaptability you need to stay comfortable from Point A to Point B.
A Helmet: This goes without saying, but biking in the Badlands can present a variety of unique hazards from falling rocks to steep surfaces. Make sure to wear a helmet as you meander the beautiful Badlands. The last thing you want to return home with is an enormous hospital bill!
GPS or Map: Cellular service in the Badlands can get quite spotty, thus bringing along a trusty map or GPS will ensure your navigation safety during your time traversing the beautiful scenery! Not sure where to get a map? Simply ask a Park Ranger at the Ben Reifel Visitor Center or as you're entering the Park!

Don't Miss Out the Badlands' Best Biking Festival – Wheelin' to Wall
Held annually each September, the annual Wheelin' to Wall bike festival brings biking enthusiasts from across the United States to the Badlands for two days of Badlands biking bliss! Offering a variety of biking events throughout Badlands National Park and the surrounding area, you'll find biking fun for people of all ages and skill levels! To learn more, visit the Wheelin' to Wall website!
Learn more about Wheelin' to Wall!
---
Last Modified: