New Chamber Executive Director
– By #Kelsey Walter
For those of you who have not met me yet, my name is Kelsey Walter and I am the new Executive Director for the Wall-Badlands Area Chamber of Commerce. I am very excited to work with all Chamber members to promote the Wall-Badlands Area!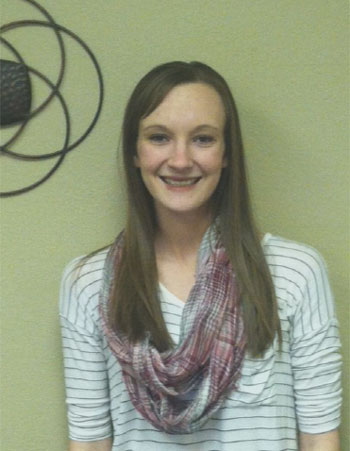 I studied business at Mitchell Technical Institute. In August of 2016, I received a diploma from the Office Technology Specialist Program with High Honors as well as being named to the MTI's President's List. I am currently completing an Associ-ate's Degree of Applied Science for the Administrative Office Specialist Program from MTI; I will graduate this May. Through my schooling I have studied various marketing techniques, accounting, computer software programs, customer service and more. I look forward to applying my education to my work here at the Chamber.

I moved to Wall in September of 2015 but grew up in Menno, SD, where I at-tended grade school and graduated high school. My par-ents still live in Menno; my mom is the Coordinator and Preschool teacher at Rainbow Bridge Daycare and my dad is a welder as well as the Chief Fireman for the Menno Volunteer Fire Department. I am engaged to Hayden Clark, who lives and breathes everything on the ranch! He is always busy feeding calves, haying, checking cows, building fence, etc. I have two children, Jamie (4) and Brecken (1). Jamie just turned 4 on April 1st and has been attending preschool with Miss Mandi at Funshine Pre-school. I swear, Jamie is 4 going on 15! She has become very interested in "beauty shop" and "dress up" lately, and if asked what she is going to be when she grows up, she will reply "EVERYTHING!" Brecken is in the phase of his life where he is very curi-ous and is finding all sorts of trouble. He enjoys mooing at the cows, "driving" the tractor with daddy, and crawling up onto all furniture, which will explain all the dings and bruises he proudly sports about!
Growing up, I enjoyed participating in 4-H and showing all breeds of animals. I was especially passionate about breeding and raising sheep with my dad. Upon mov-ing, I decided I wanted to continue that special joy and in December of 2016 I pur-chased and started raising Southdown Baby Doll sheep, which is a miniature breed. My herd of two is expected to start lambing this Spring! Jamie, Brecken, Hayden and I really enjoy the time we spend together feeding, shearing, and "playing" with them. I hope that someday I can share my love of animals with my kids, like I did with my dad.
Please feel free to stop into my office any time to introduce yourself; I look for-ward to meeting you all!
~Kelsey
---
Last Modified: