Kyle Petty Charity Ride Day
– By #Kelsey Clark
On Wednesday, May 17, Wall wel-comed roughly 250 motorcyclists to the city. The Kyle Petty Ride Across America Charity Ride rolled into Wall just before 11 a.m. Mo-torcyclists stopped briefly to fill with gas at Wall Drug Auto Livery before heading to Main Street for lunch at Badlands Harley-Davidson. The group, led by former NASCAR driver and NBC Analyst Kyle Petty, was on a 2,400 mile route from Portland, OR, to Mil-waukee, WI, with a goal to raise funds and awareness for Victory Junction – a camp dedi-cated to providing life-changing camping ex-periences for children with chronic or life-threatening illnesses.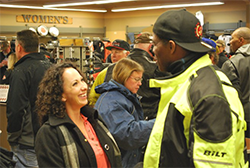 A variety of celebrity riders including Richard Petty, Harry Gant, Hershel McGiff, Donnie Allison, Herschel Walker, George Rodgers, Rick Allen, and Rutledge Wood, en-joyed their stop in Wall. Community members attended a meet and greet event where they were able to get autographs, take pictures with, and briefly talk to riders.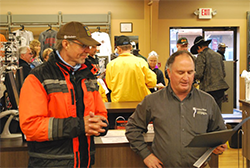 Wall Mayor, Marty Huether, gave a wonderful proclamation where he declared May 17, 2017, be Kyle Petty Charity Ride Day in Wall.
Huether also presented a check for $1,000 on behalf of the city and community businesses and members.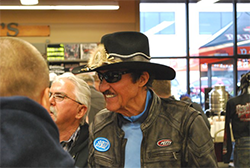 A special thank you to Black Hills Har-ley-Davidson and Badlands Harley-Davidson for all your hard work to provide lunch to the group and give them a memorable stop in Wall!
---
Last Modified: